---
Heather Carmody, DVM
Years in Practice: 18
Heather grew up in Huntington Beach, CA, where her family still lives. She attended veterinary school at UC Davis, School of Veterinary Medicine, and graduated in 2005. She fell in love with Northern California, decided to stay and joined Placerville Veterinary Clinic immediately after her graduation. In 2010, she became a partner in the practice and full owner in 2014. She has a special interest in cats, but loves dogs as well. Heather lives in Placerville with her husband and son. She has a German Shepherd Dog named Kaiser, two barn cats named Black Spy and Grey Spy, and some chickens. Becoming a Veterinarian was Heather's childhood dream, and she is thrilled to have found a career she feels so passionate about. In her free time she enjoys playing with her son, running, hiking, snowshoeing, caring for her pets and gardening.

---
---
Briar Corder, DVM
Briar Corder grew up in South Pasadena, CA where she spent most days down at the family stables with the horses, dogs, cats, chickens, goats, and the occasional zebra. Briar currently lives in Fair Oaks, CA with her husband, two daughters, and hound-dog, Luka. She has called the Sacramento area home since 1996, when she moved to Northern California to attend undergrad at UC Davis, earning her Bachelor of Science in Evolution and Ecology. She graduated from UC Davis School of Veterinary Medicine in 2006 and has practiced at small animal clinics in Arden-Arcade and Natomas before arriving at Placerville Veterinary Clinic in 2021. In her free time, Dr. Corder enjoys reading, riding her horse, Amos, and spending time with her family.
---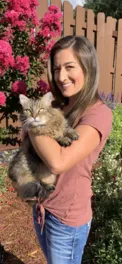 Ysabel Knapp, RVT
Ysabel was born in San Francisco, California and her family moved to Placerville in 1991. She always had a love of animals large and small hence one of the many reasons for the family to move. She has over 20 years veterinary experience, 13 years as a Registered Veterinary Technician.
Being part of Future Farmers of America (FFA) at Ponderosa High School and winning overall large animal master showman at the El Dorado County Fair kicked off her animal career. Her well rounded experience ranges from private veterinary practice to UC Davis VMTH to non-profit spay and neuter clinics and volunteering everywhere in between. She is an advocate for animal welfare and wellbeing. Ysabel and her husband Rob live in Shingle Springs with their spoiled cat love Sunny. They both love to work out at the gym and compete in bodybuilding classes. She loves to hang out and float in the pool, horseback ride, garden, spend time with friends & family and travel.
---

Donna Mellor, Veterinary Assistant/Receptionist
Donna has worked for Placerville Vet as a veterinary assistant since 1995. She loves working with animals and could not imagine doing any other job. She and her husband Jason reside in the Garden Valley area. She loves boating, camping, geo-caching with her family, and of course, the 49ers.
---
Katelyn Keene, Practice Manager
Katelyn grew up in Rhode Island where her family owned a small ranch sanctuary. Growing up among many rescued animals, caring for animals became like second nature. Katelyn graduated from San Francisco State University with a Bachelor of Science degree in Zoology in 2017. Expanding her experience in animal husbandry after graduation, she volunteered at The Marine Mammal Center, San Francisco Zoo and Wildlife Rehabilitation Centers. Katelyn is currently enrolled in Veterinary Technician school and will graduate in 2020. Her special interests include homesteading, farming and self reliance. In her spare time, Katelyn is spending time on her farm with her husband and toddler.
---
Lanae, Veterinary Assistant
Growing up in Auburn, California, Lanae was surrounded by wildlife and animals from a very young age. With a neighbor who worked as a wildlife rescue and rehabilitation specialist, Lanae would frequently find herself drawn to aiding in their care. After graduation from UC Berkeley and interning at an animal rescue, Lanae knew that her future would involve animal care and welfare. Recently, Lanae moved to Placerville with her boyfriend and her two rambunctious Olde English Bulldogs, Nemo and Dory. During her down time, she and her pups can be found enjoying the outdoors, spending time with family, or rooting for the Warriors, Giants, and Steelers! Lanae is now in Veterinary Medical school to become a DVM!
---
Elliott Nunley, RVT
Elliott is 28 years old, he has lived in the Sierra foothills as long as he can remember. Through he has a background working in feline shelters, Elliott enjoys working with both cats and dogs. In his free time he takes his dog Zoey on long walks and spend time with his cats.
---
Lee Anne McDonald , Customer Service Representative
Lee Anne joined the practice in February of 2016 as a receptionist. Originally from outside of Boston, MA, she has called California home for over 20 years. Lee Anne lives locally with her husband Greg, daughter Allison, and 2 dogs, Luna and Venus. Lee Anne loves sports, including her New England Patriots. More so, she loves watching her daughter play basketball and volleyball. When not attending a sporting events she can be found with her nose behind a book, playing cribbage or hanging out with her family at the river.


---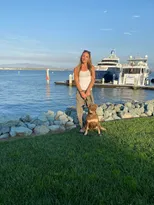 Jelena Supica, Veterinary Assistant
Jelena was born and raised in the Bay Area where she went to the University of Saint Mary's. She moved to Placerville ten years ago to get away from the hustle and bustle of the city and that is where she was able to submerse herself into the veterinary field, she loves working with all types of animals and excels with large breeds. She enjoys helping rehabilitate all critters in need. Her favorite past time is hanging out with her three dogs, cat and goats on her homestead.
---
Addie Rosemeyer, RVT
My name is Addie! I've been drawn to working with animals my entire life, fostering and volunteering every chance I have had! My career in animals began around 16 years old, working at local horse facilities training, giving lessons, and managing care of the horses. In 2020 I graduated with an associates degree in Veterinary Technology, and am working towards acquiring my RVT license. I love this field as I'm always learning!
In my free time I enjoy working with my horses, hiking, and rehabilitating cleft pallet puppies!
My fur family includes my three horses, my dog, and whatever foster I have at the time!
Heather joined us after she graduated from UC Davis, School of Veterinary Medicine in 2005, and became a partner in the practice in 2010, and full owner in 2014. She has a special interest in cats, but becoming more of a dog lover every day. Heather has a cat Annie, and a German Shepherd Dog named Kaiser. She also works closely with the Diamond Springs Humane Society caring for all the cats for adoption. Becoming a Veterinarian was Heather's childhood dream, and she is thrilled to have found a career she feels so passionate about. In her free time she enjoys running, yoga, mountain biking and skiing.